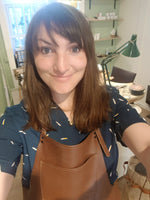 ABOUT ME
I am a Copenhagen based jeweller with a focus on sustainability and a mad love for especially weddingrings and pearls. 
My love for pearls grew strong as I worked for the company Marc'Harit Pearls who supply jewellers all over the world with high quality sustainable pearls. Through this work I gained expert knowledge on pearls and my vision of a more sustainable jewellery industry developed. 
So how does this sustainability come to life in the everyday in my workshop. Every pearl and gemstone I choose is sourced ethically and the knowing of the origin of every piece is very important to me. 
Working as a goldsmith often means a use of a variety of chemicals. However I have chosen not to work with these, and I am constantly looking for new ways to get around this. It is not the easy way, but it can be done.
Recycled gold and silver is used to the extend that it is possible. 
PLEASE NOTE: I am currently on maternity leave and will be back in January 2024. Inquiries regarding weddingrings please send me an email and I will get back to you asap.