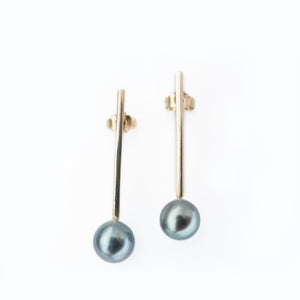 Simple and elegant pair of earrings with two stunningly matching Tahiti pearls.
Dimensions
Size of pearl 9mm
Lenght 40mm
The tahiti pearl grow in the Black lipped oyster which produces black pigment and are found in the surrounding area of the archipelago of French Polynesia, Panama and Mexico. Their colours are naturally dark and range from grey to black and peacock green to aubergine; however, they can sometimes be very light in colour from white to yellow and pink all of which have grey overtones.
The pearls are grown in coherence with the sustainable principles.
Pearl oysters need pristine water conditions to produce high-quality pearls. Any decline in water quality directly impacts oyster health, resulting in poorer pearl quality, which is why it is crucial that the pearl farmers protect the environment.
So when you buy a pearl, you should feel like you are investing in the world's oceans. Every pearl is unique in its shape and colour, and the time it takes for an oyster to make this wonder is sometimes several years.
 14k gold 
Delivery 5-7 working days.